Seminole Quilted Eyeglass Case
Sewing Pattern: page 2
beautifully finished inside and out
page 2 of 2

Learn seminole quilting while making this beautiful glasses case.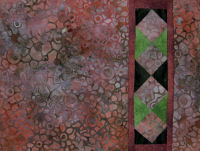 Using main case fabric (peach print), cut one piece 7.5" x 1.75", and one piece 7.5" x 6.5". Stitch the narrow strip to the right side of the diamond strip, right sides together. Stitch the larger strip to the left side of the diamond strip, right sides together. Trim your finished main case piece to 9" x 7.5".
Cut fusible fleece 9 " x 7.5". Following the directions on the fusible fleece, fuse the fleece to the WRONG SIDE of the main case piece.
Create Lining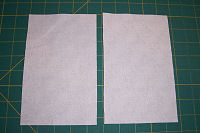 Cut two lining pieces, each measuring 4.5" x 7.5".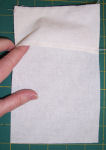 From lining fabric, cut inner pouch piece 4.5" x 3". Press under a 1/4" hem; topstitch hem. Lay one lining piece right side up. Lay the pouch piece right side up, directly on top of the lining piece. Stitch around the 3 edges, close to the edge. This pouch will be at the TOP of the eyeglass case, on the inside of the back of the case.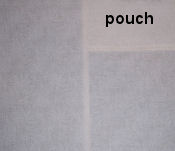 Stitch the two lining pieces together, right sides together, with the side containing the pouch on the RIGHT.
The right corner of the case is rounded and left open to allow easy removal of glasses. We provide a template for this purpose.
Fold the outer shell in half lengthwise, wrong sides together. Use the template to round off the upper corner opposite the fold. Repeat with lining.
Unfold when finished. Press out flat.
Attach Lining To Main Piece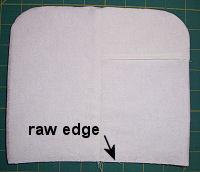 Stitch the lining to the main piece, right sides together, stitching 1/8" from the edge. Stitch only the top and two sides. LEAVE THE BOTTOM EDGE OPEN. Turn entire piece right side out. Press.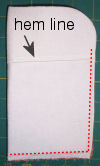 Fold the case right sides together, lenghwise. Starting just above the hem line of the pouch, stitch close to the edge down the side and across the bottom. Take a few stitches back and forth at the top to reinforce that area. Zig zag stitch across the bottom seam allowance; trim as needed. Turn case right side out. The inside side seam is nicely finished.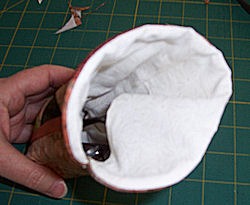 The inside pocket holds the glasses inside the case. I like this because there is no closure piece, such as velcro or snap, that can damage the glasses as they slide in and out. Alter the size of your pocket to fit your glasses.
All Patterns, images and instructions are copyright protected.
Please read our Terms & Conditions before using our patterns.