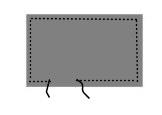 Pin the top piece to the bottom piece, right sides together. Stitch around perimeter using a 1/4" seam allowance. Leave a four or five inch opening for turning right side out. See diagram at right. This is a diagram of the easy placemat, but the table runner is put together the same way.
Trim corners (cut corners off, diagonally, close to stitching).
Turn right side out. Use a turning tool or blunt end of a crochet hook (or something similar) to push out corners. Turn open edges under. Press all edges and corners with iron.