Super Speedy Crib Quilt
Baby Quilt, Crib Quilt, Sofa Quilt
Mile A Minute Speed Piecing: 42" x 54"
Using the "mile a minute" technique of creating a checkerboard, you can truly whip up this crib quilt in no time. Just stitch strips together, cut them apart, rearrange and restitch. Voila! Attach your border, layer, quilt and you are done!
Finished Baby Quilt Size

42" x 54"
(Size includes 3" borders).
Basic Layout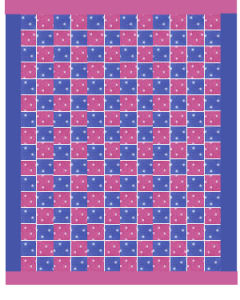 This quilt uses only two fabrics. By stitching strips of the two fabrics together, then cutting them apart, rearranging and restitching, a checkerboard pattern is quickly made. The pink and blue polka dot fabric diagram shows the overall layout. They are not gorgeous fabrics for this project, but they show the technique well. These fabrics will used in this tutorial.
Seams are all 1/4"
Supplies Needed For Crib Quilt
1 yard 45" width fabric 1 (we show as pink polka dot)
1 yard 45" width fabric 2 (we show as periwinkle polka dot)
crib size batting (42" x 54"
backing fabric (42" X 54")
border fabric (top and bottom: 3.5" x 42"; two sides: 3.5" x 48")*
Binding fabric
Other
thread to match background of fabric
large sewing ruler
rotary cutter with cutting mat
pins
PRE-WASH, DRY, & PRESS FABRIC BEFORE USING
Your fabric will shrink, so pre-wash, dry and press before using.
Cutting Instructions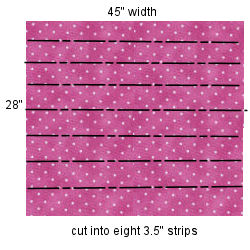 1. Cut color 1 and color 2 into strips that measure 3.5" x w.o.f. (width of fabric)

You now have 8 strips of each color. Each strip measures 3.5" x 42" (must be at least 42" long)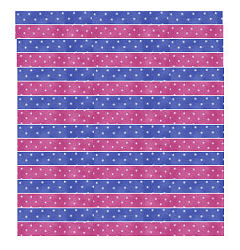 2. Stitch rows of fabric right sides together, alternating color. Press seams open.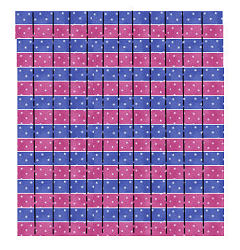 3. Cut into strips that measure 3.5" wide.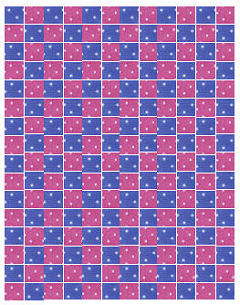 4. Turn every other row around so that you form a checkerboard pattern. Stitch rows right sides together. Press seams open.
5. Add 3" borders to all sides.
6. Add batting, backing and binding. Quilt as desired.
All Patterns, images and instructions are copyright protected.
Please read our Terms & Conditions before using our patterns.