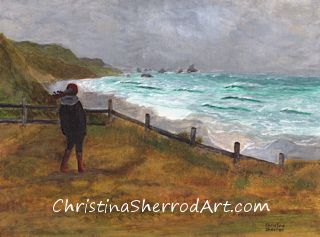 Watching The Storm
Indian Beach, Oregon Coast
Original acrylic painting: Private Collection.
I have always loved watching storms roll in on the Oregon coast. The sea turns into a rolling, powerful force, and winds can twist the largest of trees.
My daughter, Kayla, and I visited the coast a few years ago. I loved the way she stood strongly facing the sea, bracing herself against the wind. She has an inner strength that was clear for me to see on that day. We all face adversity at times, and must find the strength to stand our ground.