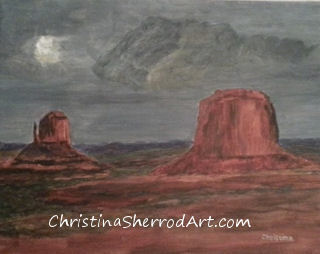 Peace After The Storm
Monument Valley
Original acrylic painting on gallery wrapped canvas. 11" x 13.75"
The monsoon of Arizona brings violent storms that roll in quickly, delivering much needed water to the desert. Hot summer temperatures fall, and we all rejoice in the rain. Along with the pleasures that the storms bring, there are the dangers from high winds and flooding. When the storm passes, all is quiet again. A quiet night follows a stormy day.
I have always loved watching the storms, though I have a healthy respect for the dangers. In our own lives, storms bring strength, new wisdom, and help us appreciate the peaceful times.