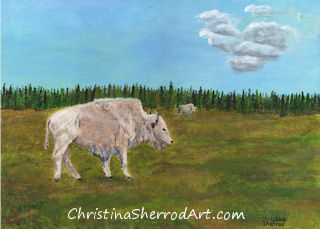 I added a few more coats to the buffalo, blended here and there, added fur, and added detail around his hooves. I also painted the buffalo in the background.
When I had finished everything, I stood back and looked at it to decide where to place the clouds. I wanted clouds to be forming for a thunderstorm, and I wanted them to be coming toward the buffalo. I used titanium white, burnt umber, ultramarine blue, and black to give depth to the clouds.
The color differences between photos on this page are due to the fact that only the final image was was made from an actual scan of the painting. The colors in the scan are much more accurate. The other images were created from photos taken with my cell phone.