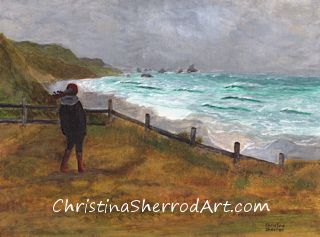 My father was a very talented artist. I always envied his ability; I could see the joy he found in painting, and the joy he brought to others. Although my father taught me perspective drawing and some basics, I didn't actually put much effort into it, assuming that I was not an artist. He did pass on the love of photography to me, and this taught me composition, which is helpful to me now.
In April 2016, a good friend invited me to attend a painting class with her at a local art supply store. I went, because I was curious. When I entered the room, I told the teacher that I was not capable of drawing more than a stick figure. She explained that there is an artist in all of us; we just need to "let it out". She created a very safe, unintimidating place for us to learn and create. I will always be grateful to her for opening up the world of art to me. Through her guidance and encouragement, I found that there was a painter inside me. I woke up one morning shortly after that with one thought in my head, "I want to paint", and I have been painting ever since.
My teacher's name is Alysia Bretz. If you live in the Phoenix area and wish to pursue painting or other types of art, I highly recommend taking a class from Alysia. Teaching art involves so much more than providing instruction on technique, although that is an important piece. It also involves helping one tap into the soul, in order to find that inner, creative being. It involves providing a relaxing atmosphere where students can exchange ideas, and feel encouraged. Alysia provides just such a place. You can reach Alysia at: Alysiabretz.webs.com
My Art
Art is a means of communication. An art piece is appreciated in a variety of ways. Some people connect to an artist's creation, and find deep, personal meaning in the piece. Others choose a piece for its color, mood or texture, to be used as a decorative accent to a room. Still others wish to let out their own creativity through painting.
For those looking for finished art, I offer paintings, prints, and greeting cards. For those who wish to paint, or learn about painting, I will also post my own tips and tricks. My "Projects" section gives a sneak peak at my "work in progress" - watch a piece as it is created!
Purchase My Art
Cards are now available in my Etsy Shop. I plan to add prints in the future.
I provide private and semi-private lessons in north Phoenix. You will learn painting techniques, plus various methods of turning your original works of art into cards and prints. Art is my first love, but I also have an extensive background in business, and love to see people become financially successful in what they love to do. Contact me (this link takes you to the contact page on my sewing and crafting site) for more information. Take private lessons, or spread the fun (and save a bit of money) by bringing a friend. Let's get started!
Please feel free to contact me with questions or comments.
For more creative inspiration, visit my sewing and craft site: CraftAndFabricLinks.com. I offer loads of free sewing and craft lessons and patterns.
For beautiful photos and reviews on places to visit in Arizona, visit my travel site: 2CoolLizards.com