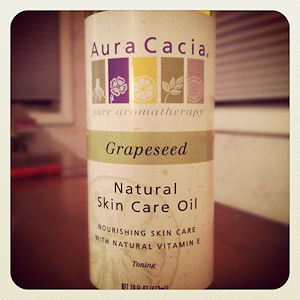 My scrub is stored in the tightly sealed jar shown above. For daily use, I use a tupperware container, sealed with a lid. I spoon some scrub from the glass jar into the tupperware container as needed. There are two reasons for this. I am not constantly putting my fingers into the scrub that's in the jar (no preservatives, remember), and I do not want glass in the shower due to safety concerns. I use my wonderful scrub every day, so I go through it fairly quickly. From face to legs, I love the feel and scent of my skin - from my own, all natural lavender scrub!
Although the sugar and essential oil has no preservative, the grapeseed skin oil you choose might have some preservative and anti-bacterial ingredients.
I bought all my ingredients at "Whole Foods".