Woven Block Quilt In Three Sizes
Baby Quilt, Crib Quilt, Lap Quilt
Lesson 3: Lap Quilt: 42.5" x 42.5"
"Woven" Lap Quilt: 42.5" x 42.5"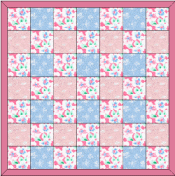 This quilt uses three different fabrics to create a look that resembles a weave. The baby quilt measures 28.5" x 28.5", and is made up of 4" blocks. The lap quilt is made the same as the baby size, but measures 42.5" x 42.5" because it is made up of 6" blocks. The crib quilt measures 28.5" x 52.5". Like the crib quilt, it is made from 4" blocks, but it contains six additional rows. The baby quilt is shown on right (7 rows of 7 blocks).
All sizes are constructed in the same way. Blocks are stitched together to create a row, then rows of blocks are stitched together. The difference of size and/or shape is due to the number of rows (baby vs. crib), or the size of the block (the lap quilt uses 6" blocks, rather than 4" blocks). Customize your quilt by adding rows or changing the size of the blocks.
Basic instructions for constructing the quilt are included on this page, as well as cutting and size information for the baby quilt. Refer to baby size or crib size for specific instructions for the other two sizes.
Finished Lap Quilt Size

42.5" x 42.5"
The quilt is made up of forty-nine 6" blocks.
Basic Layout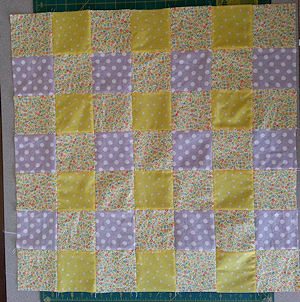 The photo at the right shows my baby blanket after all blocks were stitched together. The lap quilt is exactly the same, but made with larger blocks (6" vs 4")
Lap Quilt With Borders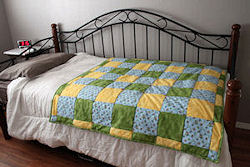 We also offer this pattern with borders. This slightly larger quilt is very nice for dressing up a hospital bed or day bed. The borders add another 4" per side to the lap size quilt.
Supplies Needed For Lap Quilt
NOTE: I list fabric width as 42" - 44" because that is a common width for quilt fabric. You will need (after shrinkage) a width of at least 39" to get 6 squares (blocks) per strip.
Color One: 1 yard of 42-45" fabric
(for 25 blocks)

Color Two: 1/2 yard of 42-45" fabric
(for 12 blocks)

Color Three: 1/2 yard of 42-45" fabric
(for 12 blocks)
Binding: Cut binding either 1.5" wide or 2" wide (your preference), and long enough to go all the way around your quilt - approximately 180 inches for the lap size quilt (you may piece strips).
Batting: You will need a 42.5" x 42.5" piece of batting
NOTE: Use Insul-Bright insulation as batting to create an extra warm quilt!
Quilt Backing: 42.5" x 42.5" piece of fabric for the quilt back. Refer to Assemble And Bind A Quilt for instructions on binding, layering and backing.
PRE-WASH, DRY, & PRESS FABRIC BEFORE USING
Your fabric will shrink, so pre-wash, dry and press before using.
Cutting Instructions

All strips of fabric will be cut 6.5" x w.o.f. (width of fabric). I cut my strips using a large sewing ruler and a rotary cutter. To make it go more quickly, I fold the fabric in half, lining up selvages, before cutting. When I computed fabric yardage, I assumed you could get at least 6 blocks per strip. Your pre-shrunk fabric would need to be at least 36" wide (6x6.5=39).

Color one: cut four strips of fabric, each 6.5" x w.o.f. plus one more square that measures 6.5" x 6.5"
For colors two and three, cut three strips of fabric 6.5" x w.o.f.

Cut all strips into 4.5" squares. For color one, you will need a total of 25 squares (blocks). For colors two and three you will need a total of 12 squares of each color.
Sewing Instructions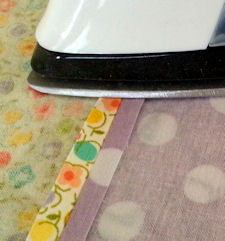 Using 1/4" seam allowances, sew the squares together as shown in the photo or diagram at the top of the page. It is easiest to assemble the squares into one row at a time. You can create horizontal or vertical rows. After your rows are created, sew the rows together. TIP: Iron all squares before sewing them into rows. Iron the rows before sewing them together. It works best to press the seams in opposite directions. In other words, if row one has seams pressed to the left, press the seams of row two to the right. That way, when you sew the rows together, it is easier to match corners more precisely.
Refer to General Quilting Instructions and Assemble And Bind A Quilt for instructions on finishing your quilt.
Quilting Instructions
You can now stitch the three layers together, either by tying with yarns or embroidery floss, hand quilting or machine quilting. If this is to be a baby quilt, I would not recommend tying (since the yarn can come loose, creating a safety hazard).
All Patterns, images and instructions are copyright protected.
Please read our Terms & Conditions before using our patterns.