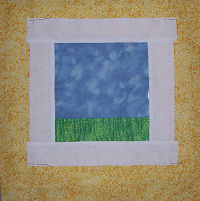 7. Check placement. Lay the window block onto the 16" square background piece. Lay the tail down; lay the cat over the tail. DO NOT iron anything at this point.
When happy with the placement, remove the cat pieces and pin the window block into place. The window block should be centered horizontally. It should be approximately 3" from the bottom edge of the background piece. Use your own judgement on placement, but be sure the window is straight and allows for the cat tail to have space.
8. Baste the window into place, stitching close to the edges (1/8" from edge) or hand applique the block into place.
HINT: If using machine applique, I recommend a satin stitch. Place Stabilizer under your piece before attempting machine applique or machine embroidery. I cut the stabilizer a little larger than the window block. Basting the piece in place before stitching with a satin stitch is important. It will hold your piece while you stitch. It is very difficult to remove satin stitching, so it is important that the piece be held securely.
9. Place cat and tail onto the lower sill (tail goes down first). When you are happy with the placement, remove the cat body and iron down the tail, following directions on the fusible web package.